Techpolymer takes advantage of the characteristics of spherical particles and is used to provide foundation and other cosmetics with smoothness. Combining products with Techpolymer improves cosmetic's spread and can give the cosmetic products improved ability to obscure wrinkles and change their texture. We also offer porous particles which can be used as adsorbent material and elastic particles which add a feeling of softness.


Techpolymer's light diffusion (soft focus) effects change depending on shape and physical properties. When used in foundation or other cosmetics, it fills in unevenness in the skin and makes it appear smooth, and also makes wrinkles less conspicuous by diffusing light in a variety of directions (soft focus). Use the different types according to applications and desired effects.

Adding Techpolymer to cosmetic products improves their spread, and can change their texture.
For example,
Combining with the MB-C/MBX-C series provides a gentle spread and texture.
The ACX series provides a creamy texture. Also, because it is elastic, it maintains its spherical shape when being added and pressed, and allows for softness and ease of application both.
MBP-8 and ACP-8C are both porous, so they provide a nice texture together with oil absorbency. ACP-8C has even greater elasticity, and so can continue to provide a soft texture even while supporting a variety of oil solutions.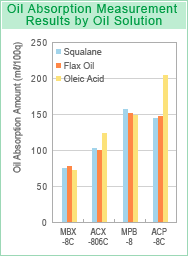 In addition, each grade of Techpolymer can absorb a different amount of each type of oil solution and has other different characteristics, so they can be used to help with a variety of different formulations.
The unique shape of our newly developed LMX series product provides a characteristic texture. In addition, the light diffusion effects this shape provides are expected to be very useful for providing a soft focus. Each of the Techpolymer series has a different light diffusion capability. Contact us for more details about light diffusion characteristics.
Usage Examples
| | | |
| --- | --- | --- |
| ・ Powder Foundations | ・ Concealer | ・ Liquid Foundations |
| ・ Skincare Lotions | ・ Lipstick | ・ Face Powder, etc. |