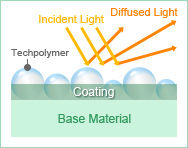 Techpolymer is widely used as a delusteirng material in paints.
Techpolymer dissolves easily in solvents and can act as a delustering agent, and also contribute to scratch resistant coatings when combined with paints and other coatings.
We are also continuing to develop more solvent resistant products and products with more uniform particle distributions.

Combining spherical polymer particles with coatings forms uneven areas on the coating surface which assist with light diffusion, reduce luster and add to the sense of design with a soft texture.
Techpolymer, with its small particle diameter, can add finer irregularities when added to other products which gives a lusterless finish with a feeling of depth and large particle diameter produts can add a sense of style to a product.
Coating Luster (Gloss)
| | | |
| --- | --- | --- |
| Grade | Average Particle Diameter | Gloss (60°) |
| Blank | - | 85.6 |
| MBX-5 | 5µm | 16.7 |
| MBX-12 | 12µm | 5.2 |
| MBX-30 | 30µm | 3.1 |
Selecting a flexible grade allows for a softer texture compared to the MBX series and also provides a finish with superior scratch resistance.
Particle Hardness and Reversion Ratio
S10 strength
(kgf/mm²)
Reversion Ratio
(%)
MBX Series
2.50
5.3
BMX Series
1.85
16.0
ABX Series
1.05
17.6
AFX Series
0.55
20.0